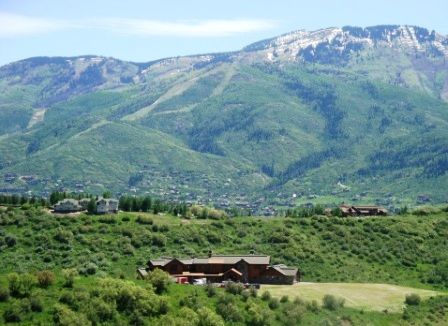 I was recently reading an article about high-end Aspen home sales (which have been even more non-existent than other resort real estate markets) and wondered if we're seeing the same trends in the Steamboat luxury real estate market. Aspen had five home sales between $13.75 million and $20 million since late December. Two more are pending. There are still 49 homes in Aspen for sale at prices above $10 million, so they aren't exactly running out of homes to sell.
In Steamboat, our real estate prices aren't quite so stratospheric although we are certainly seeing our share of buyers. Since December, nine Steamboat luxury homes have sold above $2,000,000 with two more pending.
There are quite a few properties priced above $2,000,000 for sale in Steamboat. If you are looking for a luxury home without the eye-popping price tag of a similar home in Aspen, it's worth looking at a few. Some of these Steamboat homes can be purchased at less than replacement cost making a luxury home purchase a good investment if you plan to hold–and more importantly, use–the home for several years. Please call us at 970-846-8284 to discuss your options.
These are the Steamboat Springs properties over $2M that have sold (or are under contract) since December:
| | | | | | |
| --- | --- | --- | --- | --- | --- |
| Development | Address | BR | Status | Asking Price | Sold Price |
| Meadows at Stagecoach | 21500 Green Ridge Ct. | Five Plus | SOLD | $1,999,999 | $2,000,000 |
| Rendevous Trails Subdivision | 2476 Ridge Road | Six | SOLD | $2,386,000 | $2,100,000 |
| The Sanctuary | 2880 Golf Stream Court | Five Plus | SOLD | $2,300,000 | $2,210,000 |
| Catamount Ranch LPSE | 34155 Catamount Dr | Four | PENDING | $2,300,000 | |
| Lake Catamount | 30600 Lakeshore Trail | Four | SOLD | $2,995,000 | $2,400,000 |
| North Routt Area Ranch | 43500 Elk River Road | Six Plus | PENDING | $2,500,000 | |
| Alpine Acres | 120 Deer Clover Lane | Five | SOLD | $2,875,000 | $2,650,000 |
| The Sanctuary | 3057 Heavenly View | Five | SOLD | $3,049,000 | $2,940,000 |
| Lake Catamount | 30355 Harrison Trail | Five | SOLD | $3,925,000 | $3,200,000 |
| Edgemont Condominium | 2410 Ski Trail Lane #2201 | Five | SOLD | $3,727,200 | $3,224,000 |
| Porches/More's | 2069 Indian Summer Drive | Six | SOLD | $3,950,000 | $3,490,000 |
| | | | | | |